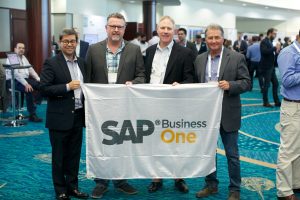 WiSys, LLC, a provider of flexible and scalable WMS for SAP Business One, is pleased to announce its sponsorship of the SAP SMB Innovation Summit. The event takes place in Orlando, FL from April 18-20. WiSys looks forward to showcasing WMS tools that help SMB companies grow and succeed using SAP Business One.
"We know that flexibility and scalability are important to small and medium sized business owners and that is what makes WiSys different," explains Michael Hollinger, WiSys Vice President. "Our customers can create customized solutions to fit their processes without writing a single line of code. Customers can start with one single device and evolve to a complex, multi-device environment all on the same platform."
SMB Innovation Summit attendees can find WiSys at booth #64 and in the demo theater on April 18 between 5:30pm and 6:30pm. This live demonstration will show how to exceed customer expectations with a flexible WMS. Live demonstrations will also be provided at the WiSys booth.
Comments