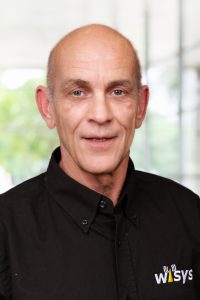 Randy joined the WiSys Support team in 2013 and is now a Senior Support Consultant. In his first 6 weeks on the job, he handled nearly 30 support calls for 20 customers, making an immediate impact on our customers!
Randy has worked with Macola and Microsoft SQL for over 15 years and brings a wealth of experience to WiSys. He has experience in business software design and flow efficiencies and has written numerous applications to resolve complex business problems.
In the early 2000's, Randy was a certified Macola implementer, working with mid-tier ERP software packages to deliver professional, efficient and timely solutions to business issues.
Before joining WiSys, Randy was a Senior Database Administrator and Business Analyst for a safety and security solutions provider where he maintained the Macola ERP system. During this time, Randy also designed reports using Crystal and other Reporting Services, integrated three different databases using SSIS and data mapping and installed and supported EDI software.