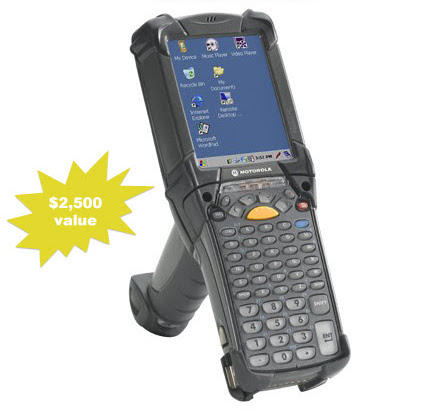 To thank our customers that will be joining us at Exact Macola Evolve this month, we are giving away a Motorola MC9200 mobile handheld scanner at the event ($2,500 value)!
To enter, look for the yellow card in your hotel room when you arrive, fill it out and turn it in at our booth (#120) in the Solution Center. Don't worry, if you don't find a card in your room, you can visit our booth to fill one out directly. The winner will be announced at lunch on Thursday, April 24, so be sure to enter before then!
What is the MC9200? 
The MC9200 is a mobile handheld scanner that WiSys Agility applications are run on. This little mobile computer is part of what makes real-time warehouse management possible for our customers and Macola users.
The MC9200 has a rugged design and best-in-class bar code scanning operations. It has the power to run WiSys applications with highly-intuitive interfaces to simplify your business processes and increase worker productivity in your warehouse.
Where can you find WiSys at Evolve? Join one of our breakout sessions!