WiSys offers a suite of flexible and scalable products which integrate to the SAP Business One® Digital Core and is key to helping SAP deliver on their promise of global, highly scalable real-time ERP.
At WiSys, for the past fifteen years, we have re-invented how ERP systems create value for customers. To meet the business challenges of a new economy, companies need to focus on reducing reaction time to maintain customer loyalties and improve supply chain operations; from receiving through production to delivery.
The WiSys Agility suite of products and tools is a single source for Warehouse Management, Supply Chain Management and Business Intelligence, providing real-time transactions and actionable insights for production, inventory and fulfillment.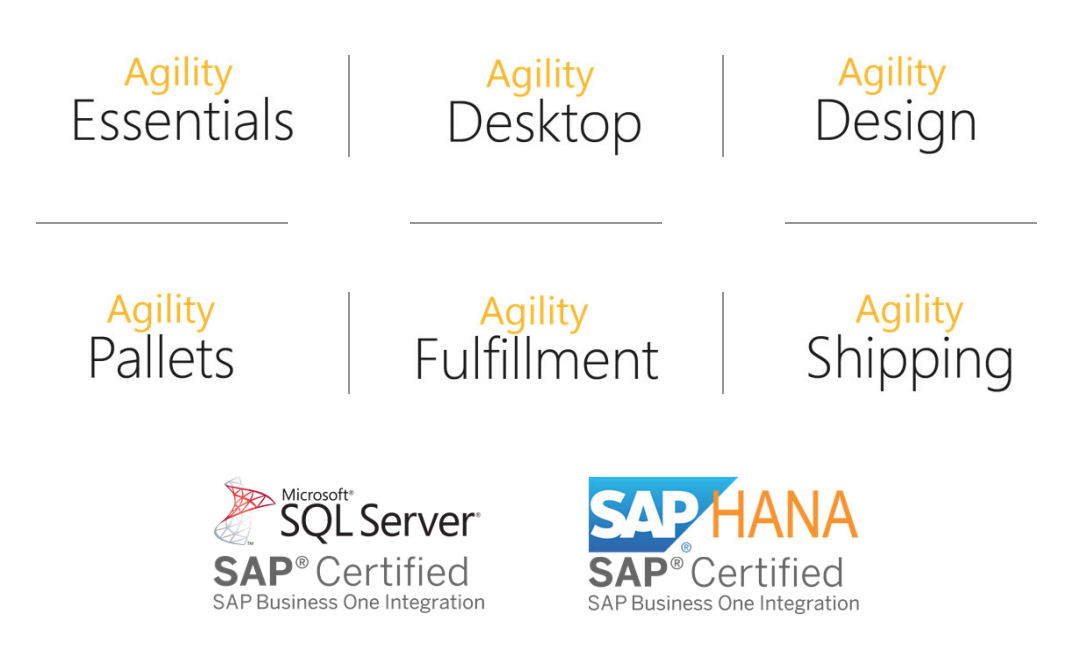 Recent Innovations
Support Latin American Spanish
Android Remote Desktop (RDP) Support
Agility Shipping: Integration with UPS, FedEx and USPS
Agility Desktop: Workspace Grids to easily view and access SAP Business One® Data
Production Orders
Product Resource
Purchase Orders
Purchase Request
Purchase Return Request
Purchase Receipts
Purchase Return
Sales Orders
Sales Quotations
Sales Return Request
Sales Delivery
Sales Return
Batch Availability
Serial Availability
Sales Order Batch Pick List Creation
Production Order Batch Pick List Creation
Production Order Component PO Creation
Purchase Order Receipt and Production Order Issue
Purchase Order Shipping Container Processing
2019 Planned Innovations – October Update
Native Android WMS – Beta testing
Android Signature Capture and Camera Integration with SAP Business One® – Beta testing
Agility Essentials: SAP Business One® Purchase Return Request Processing – Completed
Agility Essentials: SAP Business One® Sales Return Request Processing – Completed
Agility Pallets: Shipping Container Processing – Completed
Agility Fulfillment and Manufacturing: Inventory Allocations – Beta testing
Agility Fulfillment: Advanced Cycle Count Rules Generation
Agility Manufacturing: Production Labor and Machine Transactions – In development 
Agility Essentials: Sub Contract Production Purchasing Integration – Completed
Agility Fulfillment: Paperless Directed Picking – Completed
Agility Fulfillment: StarShip Integration – Beta testing
Legal Disclaimer
The information in this presentation is confidential and proprietary to WiSys, LLC and may not be disclosed without the permission of WiSys, LLC. This presentation is not subject to your license agreement or any other service or subscription agreement with WiSys, LLC. WiSys has no obligation to pursue any course of business outlined in this document or any related presentation, or to develop or release any functionality mentioned therein. This document, or any related presentation, and WiSys's strategy and possible future developments, products, and platforms, directions, and functionality are all subject to change and may be changed by WiSys at any time for any reason without notice. The information in this document is not a commitment, promise, or legal obligation to deliver any material, code, or functionality. This document is provided without a warranty of any kind, either express or implied, including but not limited to the implied warranties of merchantability, fitness for a particular purpose, or noninfringement. This document is for informational purposes and may not be incorporated into a contract. WiSys assumes no responsibility for errors or omissions in this document, except if such damages were caused by WiSys's willful misconduct or gross negligence.
All forward‐looking statements are subject to various risks and uncertainties that could cause actual results to differ materially from expectations. Readers are cautioned not to place undue reliance on these forward‐looking statements, which speak only as of their dates, and they should not be relied upon in making purchasing decisions.