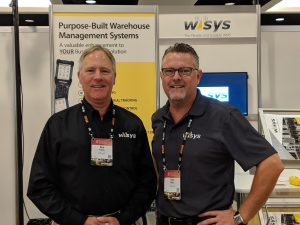 We are excited to be sponsoring the SAP Biz.ONE Conference in October! The event takes place in Indianapolis, IN from October 28-30.
This is your opportunity to join over 500 professionals and 200 companies to network, learn, and discover SAP solutions and strategies specific to SAP Business One users. Biz.ONE will provide you with inspiration, tips and tricks, and best practices to help move your organization forward.
Here is where you can find WiSys at Biz.ONE: 
We will be hosting a session on Tuesday, October 29 to share a WiSys customer success story. We will also have a booth in the exhibition area. Please stop by to meet our team and learn more about WiSys solutions for SAP Business One.
How a Wholesale Distributor Doubled Its Efficiency with WiSys
Tuesday October 29, 2019 · 11:10 – 11:50am
Ram Products is a wholesale distributor of repair and maintenance products, offering the immediate delivery of managed product from mobile warehouses. Ram products had several operational challenges related to speed and accuracy in the operations of purchase order receiving, production, in-transit transfers, picking, and cycle counting. These processes were either slow, prone to errors, or required more than one person to complete these tasks.
To resolve these challenges, James Shotts, director of operations for Ram Products, chose to implement a warehouse management system (WMS) solution in the warehouse. Ram Products spent considerable time evaluating WMS solutions before selecting WiSys. The organization's evaluation was based on how focused the WMS company was on SAP Business One, experience with HANA, ability to demonstrate the product, and cost.
This session will be a deep dive into RAM Products' WMS transformation as James shares its journey that doubled efficiency, automated workflows, and decreased the number of times that product needed to be touched and validated by people in the warehouse.
Key Business Benefits:
Doubled efficiency in the purchase-order receiving process
30% increase in shipping capacity
Decreased number of required people by 50% in the in-transit transfer process
WiSys Booth #32

Monday, October 28 – Wednesday, October 30
Visit our booth #32 to see WiSys solutions in action, hear about our newest features and talk with our team about solutions that meet your specific challenges.
We hope to see you at Biz.ONE!