Wireless networks within a business environment require special planning and implementation to be sure all devices connected to the network function at peak performance. A common mistake made by many organizations is thinking that all there is to implementing a wireless network is to add a few access points here and there, connect up some devices and they are off and running. This logic leads to an all too common point of failure when implementing a warehouse management solution.
Why You Should Conduct a Wireless Site Survey
Many factors regarding the physical environment impact the effectiveness of the wireless network. For example, some businesses may have very dense products on pallets in racking that span from the floor to very near the top of the warehouse ceiling. This environment would require more access points and have more interference than an environment with loose pallets in a more open space. Professional organizations that conduct wireless site surveys have engineers and specific hardware and software tools that test for interference, signal-to-noise ratio, throughput, and signal quality to name a few.
In this article, we will review the reasons why it is worth investing the time and money to have a site survey performed by experts in building commercially robust networks.
Wireless Site Survey Checklist
Here are a few considerations taken into account during a wireless site survey:
Wireless coverage for the entire operation

Office and Warehouse
Multiple facilities in a campus or other cities, states, or countries

Environment – Indoor/Outdoor/Dirty/Dusty/Cold
Distance
Interference
Capacity
Band Frequency, 802.11 Standard a/b/g/n/ac – frequency and speed
Types of devices using the network
Security/Data Encryption
Roaming Options: Access Point to Access Point or a Mesh Network
Wireless Site Survey Report
These are the results that are provided from a site survey:
A count with the number of access points necessary to provide sufficient coverage
Recommendations of specific hardware, antenna, and accessories needed to meet specific needs
Ensure up to 40% redundancy in coverage
Identify hurdles or conditions which would hinder or prevent RF propagation which includes common issues such as RF scattering or multi-pathing
Site map with specific mounting locations, cable path, network cabinets, and access points installation
This is a sample signal-to-noise ratio coverage map that is included as an output of a site survey report.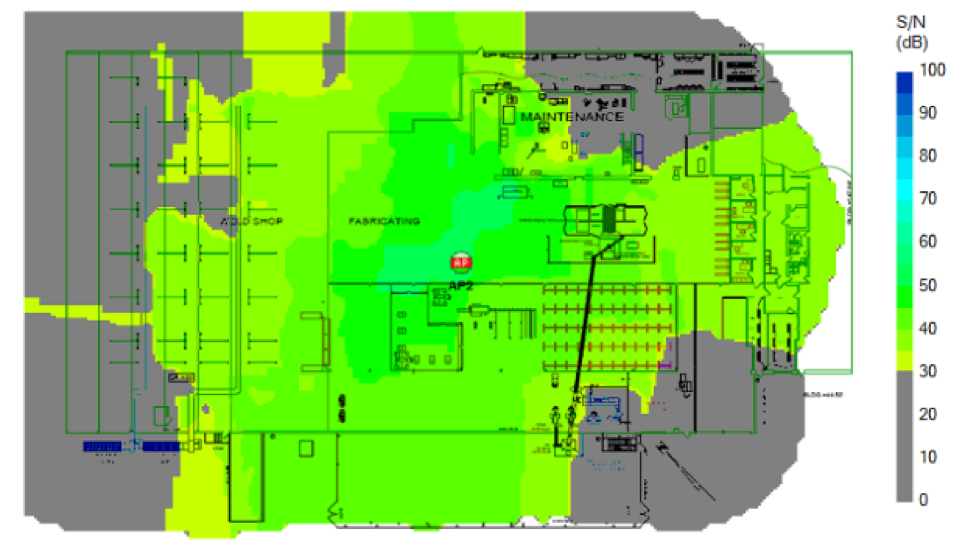 Wireless Site Survey Companies
If you have a need for a wireless site survey, there are two organizations that can help with this service in addition to wireless hardware, devices, printers and labels. We recommend these companies to our customers because they have proven track records and our customers have reported back that they are very satisfied with their service and support.
Adaptive Data
Tim Gribler
8170 Washington Village Drive
Dayton, OH 45458
(937) 436-2343 – Office
(937) 367-6939 – Mobile
www.adi-barcode.com
Barcodes, Inc.
Gerry Skalla
10300 10th Ave North,
Plymouth, MN 55441
(763)231-6754 – VoIP Office
(920)791-0506 – Mobile
www.barcodesinc.com
Although it may seem like not much goes into a wireless network other than a few access points, there are many factors that can impact the performance of the network. Warehouse management solutions are meant to be efficient and save you time and effort. Dropped connections, failed transactions, and other performance-related problems with wireless networks cause workers to become frustrated, inefficient and more often than not, lead to data-related integrity issues. The time, effort, and expense to fix the outcome of these problems is far greater than the upfront planning and expense to build a wireless infrastructure the right way from the start.
Warehouse Management Solutions for Macola and SAP Business One
Ready to get started with a Warehouse Management System? WiSys Agility solutions have been designed to achieve efficient Warehouse Management, Supply Chain Management, and Business Intelligence. Contact us to learn more.