Located in Saddle Brook, New Jersey, Chemaid Laboratories is a premier formulator, providing contract manufacturing services to the beauty industry. "We strategically align ourselves with key technology companies to create skin care, hair care, fine fragrance ancillaries, bath and body treatment products that surpass our clients' expectations."
Chemaid has used Macola ERP software for over 15 years. During that time, they never had their finished goods binned or lot numbered. In the past, they tried using a Warehouse Management System (WMS) that was not real-time, was not flexible enough and did not help them become more efficient. They embarked on a thorough review of available systems that worked with Macola and selected WiSys in the fall of 2011 because they needed the help the WiSys Warehouse Management System for Macola could easily provide.
Chemaid explains why they selected WiSys: "It was like going on a date with your sister – the relationship was already there. No need for middleware. We knew the CEO had founded Macola and believed their solution was a great fit."
WiSys Products Used:
WiSys Warehouse Management System
Agility Explorer
Design Studio
Form Studio
Pallet Management
Key Benefits:
Better quality assurance
Tighter control of inventory
Increased management of sample product tracking
Management of palletized inventory
Smoother integration with accounting for billing
Easier reporting
Cycle counting of palletized products
Consolidation of receiving both purchased and consigned goods
Recently, Chemaid initiated a real-time daily analysis of their shop floor production results, including scrap reporting. This saves them 16 man-hours per week (wow!). Chemaid plans to start automating shipping on pallets in the near future.
Chemaid currently has 25 WiSys users who use a combination of desktop and handheld applications.
Internally Developed WiSys tools include:
Operations KPI Dashboard
Displays year to date information of Labor Efficiency, Machine Efficiency and Production Data for the previous date.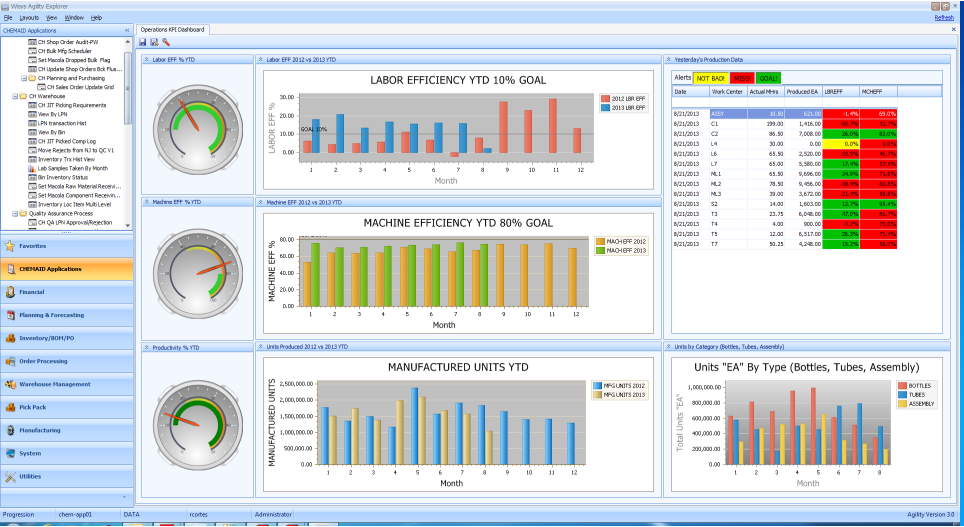 CH Shop Order Reconciliation
This is a split screen in Agility Explorer. The Top of the screen is a Dialogue Form that displays header information for a shop order. From this top part, the user can report Labor hours for shop order, end the shop order and print a Crystal report document for the records.
The bottom section has a process grid that calculates the amount of loss per material at the end of the shop order and reconciles the loss against the quantity issued to the order and what was actually produced. From the bottom section the user can open secondary screens that display what other orders used the same component, the transaction log of that component for that order (Issues/Returns) and finally report material scrap for all or selected components on the grid which gets posted in Macola.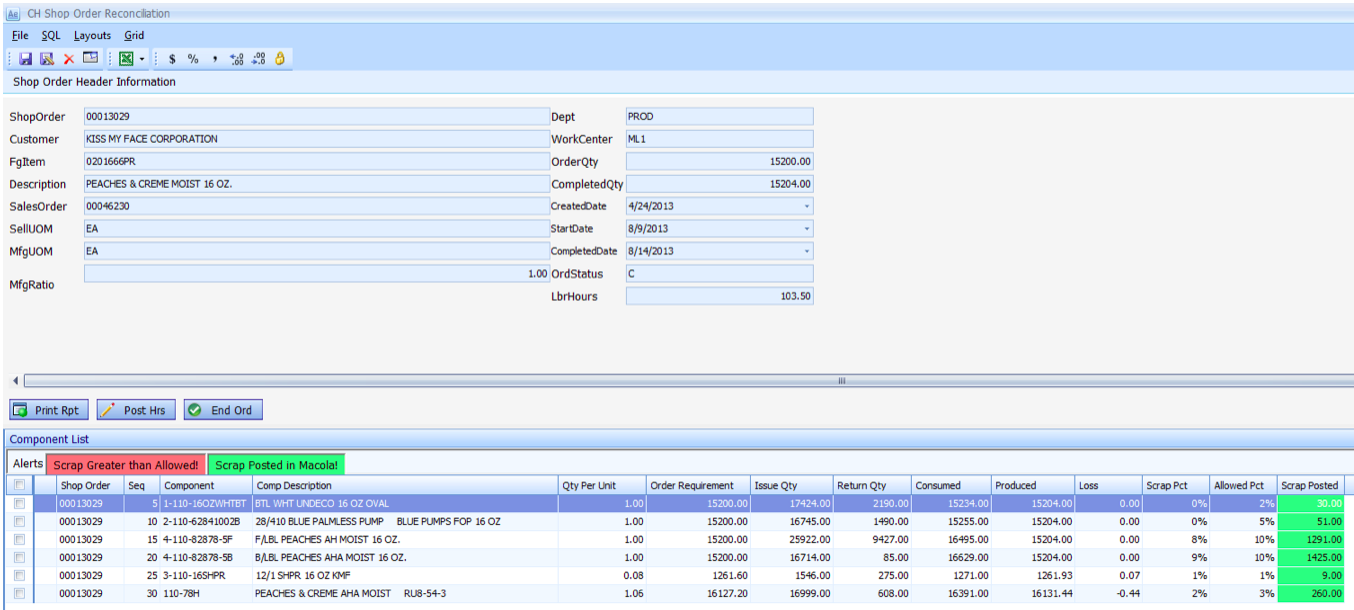 CH Units Calendar:
Displays the units produced daily by shift in a calendar format for Production Manager reviews on a daily basis.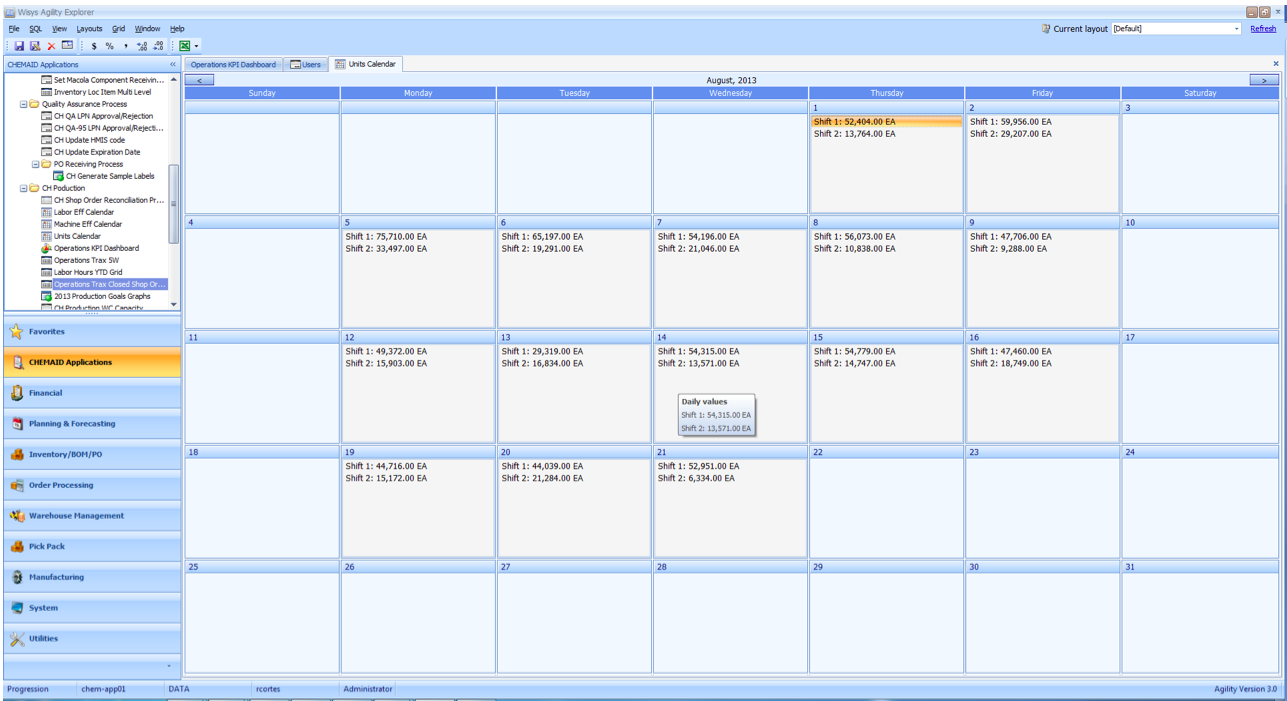 CH JIT Picking Requirements:
Displays a list of components to be pulled for production shop orders. The orders are placed by users through scanners and then dropped on this grid. It displays the availability of the components and updates the status of the picking process to reflect if the component is being picked. Once the picking request has been completed, it drops to the lower part of the grid and keeps a log of who picked the component and what time. This screen works in conjunction with two other Agility WMS handheld applications.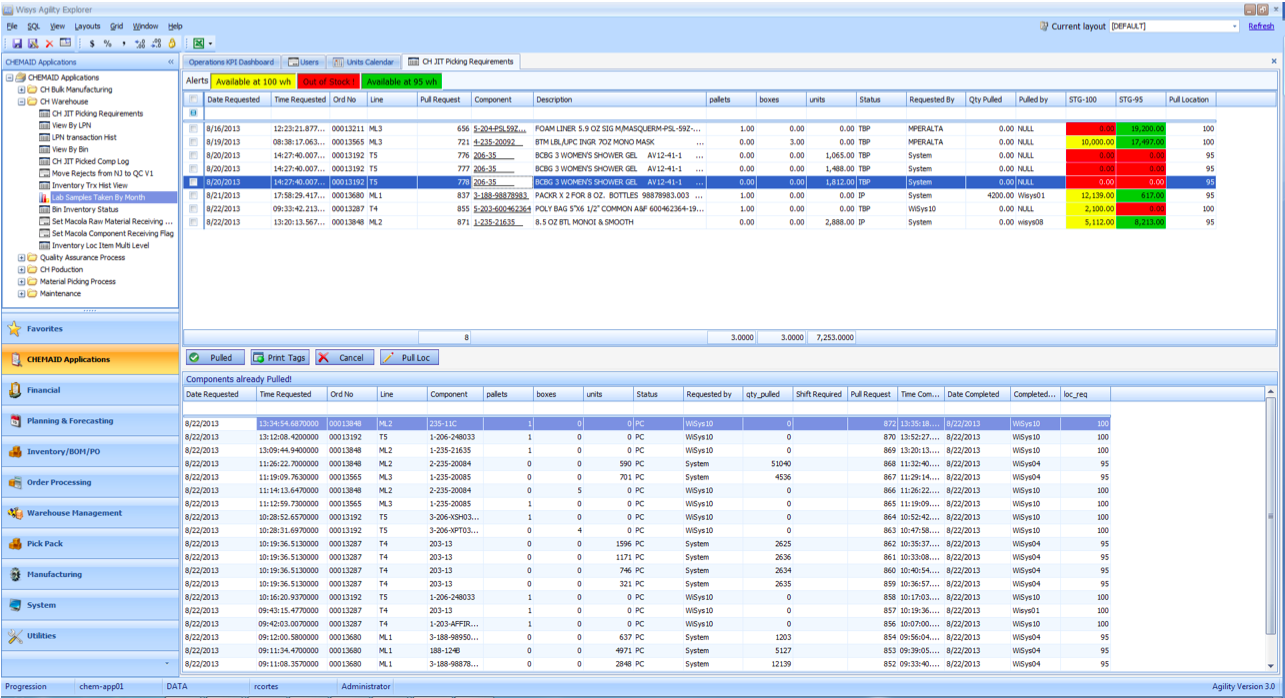 Click here to download a pdf of Chemaid's internally developed WiSys tools.