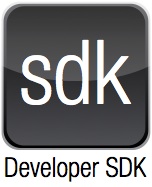 As businesses evolve into more resilient, precise and faster operations, complexity grows. That is why IT organizations need to turn to software providers for Software Development Kits to hide that complexity and unleash productivity to support their businesses.
The WiSys Software Development Kit (SDK) gives businesses the ability to rapidly deploy new processes based on current Exact Macola functionality. The SDK starts with our business objects, which are groups of software components that carry out business transactions. This gives customers the ability to chain multiple Macola functions together in any way they want to create a different business process.
Ready to learn more about SDK?
Our SDK Developer's Guide consists of recipes and guidelines on how to use the WiSys Business Objects to help your organization be more productive. To find this document, visit our Support Documentation page, and then navigate to SDK. From there you will see the WiSys Business Objects 3.0 SDK Developer's Guide and chapters 1 through 7.
Hear how one WiSys customer used the Developer SDK and WiSys Business Objects to create a mobile catalog application capable of taking orders in Macola. Read their story.
Watch the videos below to learn more about the Developer SDK and how it can be used to help automate your business.