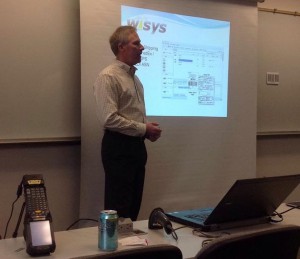 As the platinum sponsor of the upcoming Exact Macola Evolve customer conference, Bob Hawk joined the Exact Macola team for their 2014 kickoff meeting in Columbus, Ohio. Bob met with a variety of people to help promote and plan the event.
One topic that we are excited to share with customers at Evolve is the WiSys Advanced Packing and Shipping (APS) tool for Macola. This tool adds a new data structure for packaging. Whether you are packing cartons or pallets, APS gives you the flexibility to define the type of packaging you are shipping to match your business process. You can then tailor packing processes on a mobile data collection device or on a workstation for packing at a packing station.
WiSys Advanced Packing and Shipping for Macola integrates directly with UPS, FedEx, and USPS and will print any type of documentation required by your drivers, including a Bill of Lading (BOL) or a Packing List. Features include:
Pack and Ship
Data Masons EDI Integration
Integration with WMS Pallet Management
Parcel Package Integration
Document Printing
Package Definition
In the video below, Bob demonstrates exactly how WiSys Advanced Packing and Shipping (APS) for Macola works. We recommend playing this video in HD. To enable this, click on the Settings wheel in the bottom right corner of the video below. Then change the quality of the video to HD (720p, 1080i or 1080p). You can also expand the video to full screen by clicking the icon in the bottom right corner.