Manufacturing Execution
Real-time production reporting
Shop Floor Execution and Work Center Reporting for Macola
Real-Time Transactions
WiSys Shop Floor Execution and Work Center Reporting brings real-time transaction entry to Macola. It is a robust, yet simple to use solution that makes Shop Floor data collection in the warehouse easy. You can issue and return raw materials to a Shop order as well as report production using either a mobile data collection device or on a workstation.
This solution also integrates with Macola Labor Performance allowing personnel to clock in and out creating clock cards and to clock in and out of operations creating labor transactions. You can again issue entire pallets easily to an order and report completed pallets of finished goods.
Shop Floor Work Center Reporting is composed of a transaction entry screen designed to accept bar coded entry of Shop Order and Labor transactions at the work center as work is being started and completed. A setup screen provides options as to how the data is to be reported and how manufacturing employees record Shop Floor transactions. For example, a setup option to allow manual labor entry would control whether the employee could override the calculated time on the operation or let WiSys Shop Floor Work Center Reporting calculate the labor only.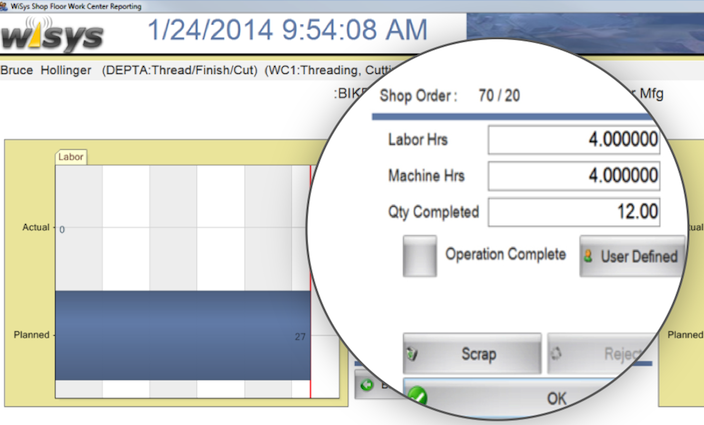 Benefits of Real-Time Data Collection
Up-to-Date Job and Labor information
Reliable Job Status
Accurate Job Cost Information for improved standard costs and variances
Simple, easy to use data entry that is real-time
Keeps employees focused on their true jobs, not data entry
Integrated label printing for finished goods and/or pallets
WiSys Shop Floor Work Center Reporting leverages the power of your Macola ERP system, Microsoft SQL Server, and a solid architecture based on Microsoft's .Net platform.