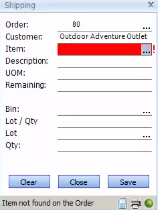 A customer recently asked how WiSys Agility WMS verifies what is on an order to validate if the person doing order picking is actually picking the correct item against the correct sales order. For example, if order number 1234 has parts a, b and c, how will Agility alert you if you scan the wrong part or don't scan a part at all before scanning the next order.
This short video shows how the process works with Simple Warehouse Shipping.
We also offer an advanced order picking and shipping solution called "Pick Pack" which builds up a shipment with Pallets / Cartons and supports customer specific label compliance. This application directly integrates with Data Mason's EDI solution for Macola, which handles ASN transmission.