We have heard from several customers recently asking about RFID solutions. For the past few years, Walmart has been trying to push RFID in their stores and products. So we thought it was time for an updated discussion of RFID tags and how WiSys handles this technology.
What You Need to Know About RFID and Barcode Labels
What is RFID?
RFID is short for radio frequency identification and is kind of like a modern GPS. You can use RFID tracking technology to find assets or people. Most commonly, the RFID tags are affixed to products that require some kind of handling or storing. The data stored in the tag has a radio signal that is picked up by readers within the vicinity.
How Does RFID Technology Work?
An RFID tag contains a microchip that has information stored within and a tiny antenna to receive a signal from the scanner. An RFID tag is attached to an item, and that tag is picked up by the RFID reader.
RFID vs Barcode Labels
RFID isn't something that is printable like a barcode label. The chips they use have to either be pre-encoded and you need a reader that can scan the tag ID, or you need the equipment that can program the tags which is much more expensive.
Ideally, you would be able to read an ID number off the chip just like you are currently scanning any other barcode. The reader would need to be integrated into the device just like the barcode scanners are.
How to Handle RFID Requirements
Some large retailers, like Walmart, are starting to require RFID tags. This could potentially replace the serial number scan if you label every single item with an RFID tag, and then every item is scanned before shipping.
Since RFID tags are more expensive than paper labels, it is a good idea to verify what needs to be tagged. Do all items need RFID tags or just the more expensive items? What about small parts that are less expensive than the tag itself?
How WiSys Handles Barcode Labels
WiSys Agility Shipping works by scanning one field of data at a time; moving from top to bottom through each field on the handheld form until a transaction can be completed by pressing Save or Enter on the gun. Barcode labels can contain many fields of data and up to 2048 bytes of information on each tag. If your customer requires a pallet tag, you can certainly print that and apply it to each pallet.
How does WiSys approach the collection of information and how can we capture pallet-related data?
In the example below, we build one pallet with 4 serial numbers. Once complete, we only need to reference pallet #12 to get all the other linked data in Macola (pallet, item, date, time, shop order, serial/lot, pallet, user, etc.). A WiSys pallet tag (sometimes called an LPN) is printed and you could simultaneously print a barcode label with all the information you need to satisfy your shipping compliance requirements.
Step 1: SF Pallet Production (could also be POP)
Agility Shipping creates a new Pallet with 4 serialized Finished Goods.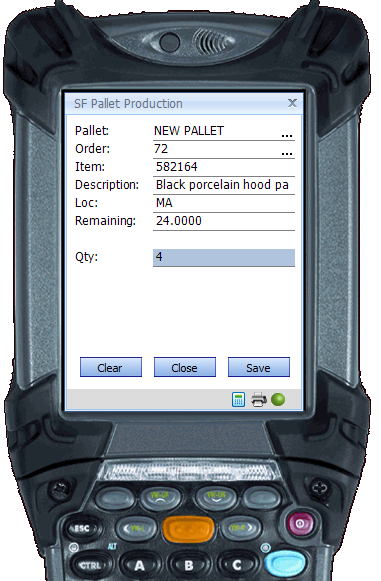 Step 2: Bin, S/L
This is where Agility Shipping is collecting the 4 serial numbers going on to this pallet.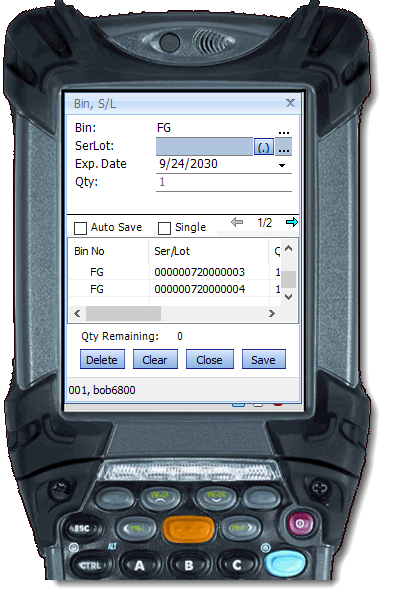 Step 3: Pallet Tags
After production is completed Agility Shipping optionally prints a human-readable Pallet Tag.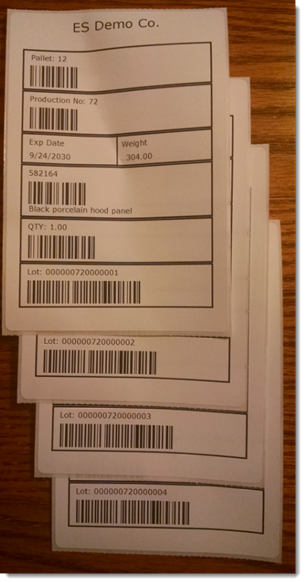 Bonus: Agility Explorer
All pallet information that has been entered can now be viewed in Agility Explorer.
1 – Display in Agility Explorer of the item master just focused on one SKU/Item
2 – Drill down on the Pallet number 12
3 – Drill down on one specific serial number (1 of 4 on this pallet)