The global manufacturing community, users of semi-finished goods and finished articles, and their supporting logistics and distribution infrastructures, focus substantial resources upon identifying and managing environmental, health, and safety (EHS) hazards, and on documenting compliance with a myriad of EHS regulatory requirements. The SDS Safety Data Sheet is one of the key tools for identifying and communicating workplace EHS hazards for companies which manufacture, use, transport, resell, or store potentially hazardous chemicals in the workplace, and for managing regulatory compliance. The form, content and usage of the SDS is mandated by regulations and laws in every country with significant engagement in global manufacturing and commerce.
What Is the Safety Data Sheet?
The SDS (sometimes called Product Data Safety Sheet or Material Safety Data Sheet) is an internationally recognized document which succinctly summarizes key information about environmental, health and safety characteristics of a chemical substance or product, descriptions of any potential hazards posed by its handling, storage, or transport, and precautionary and incident response measures, along with emergency contact information.  The standard, globally recognized SDS format consists of 16 sections designed to:
Identify the supplier and the product and describe key product properties and characteristics, generally covered in sections 1, 2, 3 and 9.
Describe potential environmental, health, and safety hazards (for example fire and explosion risks, toxicity and environmental hazards). Sections 10, 11 and 12.
Suggest measures to prevent accidents and to mitigate potential consequences of exposure. (Sections 7, 8, 14 and 15)
Suggest effective responses to incidents and accidents. (Sections 4, 5, 6 and 13)
The US Department of Labor's OSHA website provides additional guidance: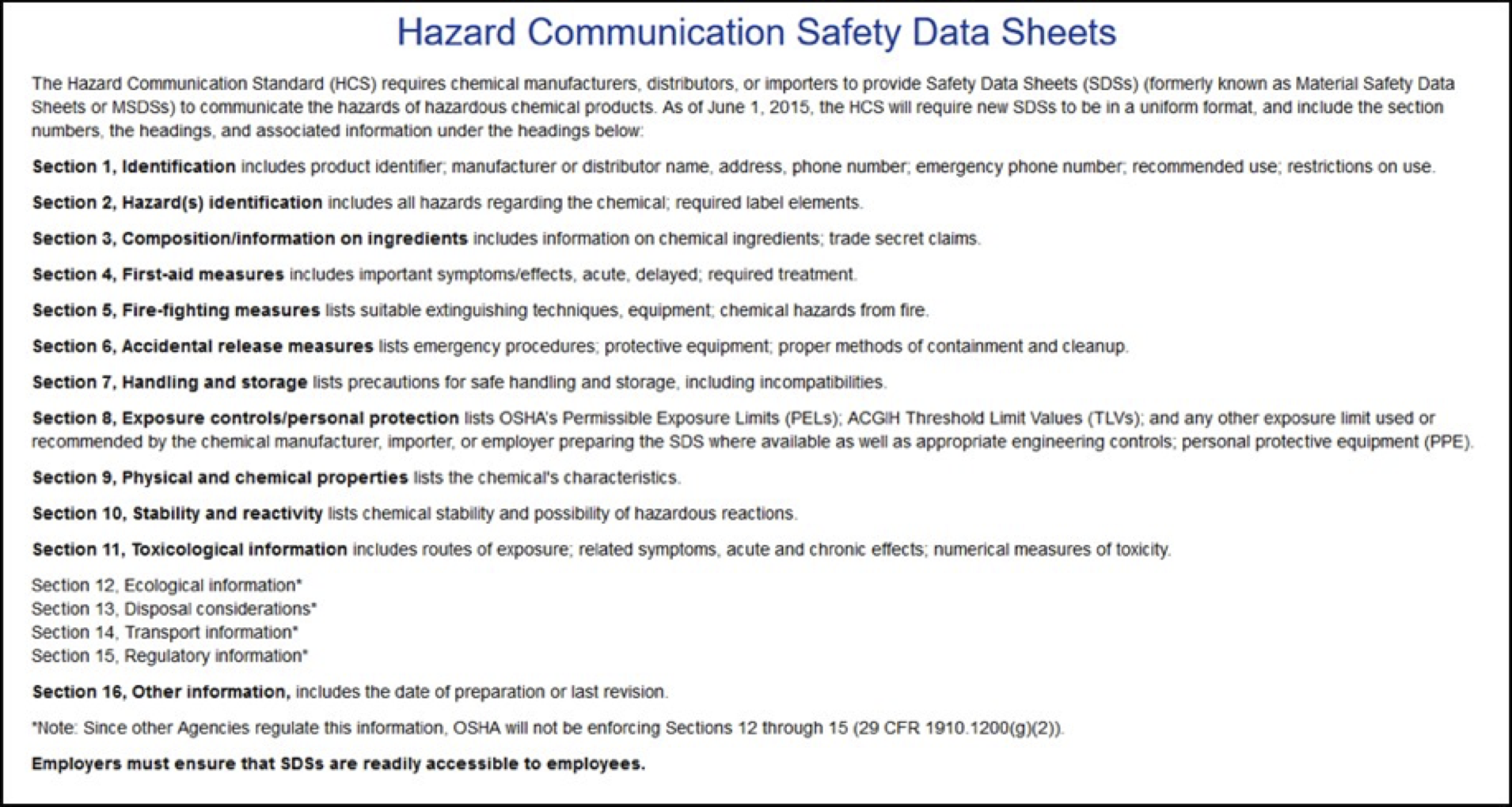 The format, content, and dissemination of the SDS is mandated by appropriate regulatory bodies in each country – OSHA, the Occupational Health and Safety Administration of the United States Department of Labor, for example, and the European Chemicals Agency ECHA of the European Union. Most countries with significant participation in the global manufacturing economy have comparable regulatory agencies. To facilitate global commerce, however, SDS requirements of each of these individual jurisdictions conform generally to the format and content standards laid out by the United Nations' Global Harmonization System GHS for classification and labeling of chemicals.
How Companies Use the SDS
While requirements may differ slightly from country to country, the regulations generally require that, for each chemical which may be encountered in the workplace, the corresponding SDS must be readily available to anyone who might come into contact with the material.  The requirement covers not only factory workers and their supervisors, but extends to laboratory personnel, and warehouse and logistics workers.
How Companies Use the SDS in the Workplace
In the workplace, the SDS is designed as a tool to:
Inform front line personnel of the nature and potential hazards of the materials they are handling.

As an education and training tool to promote risk avoidance, accident prevention and emergency response measures
As a quick and ready reference in case of emergency

Provide succinct guidance on accident prevention and preparations appropriate to the substance in question.

As the basis for creating procedures for safe operations and emergency response plans and training
As a guide to selection, placement and use of emergency response equipment
As a guide to facilities design and layout to minimize hazards

Provide succinct recommendations regarding emergency response measures – firefighting, first aid, and live saving procedures, spill and release containment methods, for example – appropriate to the substances in question.

As a tool to guide establishment of emergency response procedures and plans
As a tool to guide training emergency responders
How Companies That Sell Products Use the SDS
Companies that sell products which require SDS are obligated by the regulations to furnish copies of the SDS to the customers to which it is being shipped.  The recipients of these materials are obligated to keep the SDS on file and available to workers who work with or may become exposed to the material.  Users of these substances must, in general, follow the same set of workplace rules that apply to the original producers of the SDS regulated material.
How Companies That Ship Substances Use the SDS
Companies that ship substances which require an SDS must provide copies of the SDS to the carrier and to entities which might handle and store the materials in transit.  In addition, data and hazard classifications generated by the SDS creation process, have a large role in determining packaging, transportation, labeling, and documentation requirements for shipping the substance.  The SDS and these hazard classifications link to international Dangerous Goods Regulations, which are implemented by IATA International Air Transport Association, the International Maritime Association and comparable organizations for rail and road transit.
Again, it is worth noting that all this documentation – SDS, the relevant Dangerous Goods declarations, bills of lading, labeling and placarding, etc – must conform to the content, format and language requirements of each of the countries involved in the production, transport and use of the materials in question.
Regulations require that companies must provide SDS and other hazard and emergency response information to local authorities, fire departments, emergency medical responders, etc.  This information allows first responders to adequately prepare and train for the special hazards they may encounter, and to avoid unexpected disasters in case of an accident (disasters such as this 2013 ammonium nitrate explosion in a fertilizer warehouse, which killed 12 first responders and 3 civilians in West, Texas).
Tips for Creating an SDS
Regardless of minor variations from jurisdiction to jurisdiction, creating an SDS is a multi-step process.

Basic data about the substance – physical properties such as boiling point and freezing point temperatures, ignition, fire and explosion characteristics, and toxicity and ecology data, for example – provide the foundation for the SDS document (and for related documentation required for shipping).  Regulations specify which property data is required and, in many cases, the precise test criteria for measuring the data.  Toxicity and ecology information may require specialized testing with plant or animal subjects.  Much of this data may be found in publicly available sources.  Obtaining data to adequately describe a new substance, however, may require a significant program of laboratory testing.
These basic data elements are used to determine the proper hazard classification terminology, as prescribed by regulation and statute, to describe the substance. Hazard classifications are assigned to materials whose properties fall within specific data ranges.  For example, the "flash point" temperature (a property which indicates how readily a chemical may ignite) determines whether a liquid should be identified as "combustible" or "flammable" or another classification term.
These hazard classifications, in turn, link to terms, phrases and descriptive language that are specified in the regulations. These terms and phrases are used to describe potential dangers posed by the substance, and to suggest precautionary measures and emergency response procedures that are appropriate to materials carrying each hazard classification.  The mandated terminology (often supplemented by additional and clarifying information from the manufacturer) is used to populate portions of the SDS (and the constellation of related shipping and transportation documents) that describe accident prevention and preparation recommendations and emergency response measures.
The basic data, hazard classifications, and mandated terms, phrases and descriptive language, along with other relevant information, is then assembled into the 16 section SDS document, as required by the controlling regulatory agency.
Creating the SDS is generally the responsibility of the organization within which the substance originates.  That may be a chemical manufacturing company, independent lab or research facility.  In other cases, it may be a company which combines various of these substances into formulated products (such as paints or inks or adhesive preparations).  In any case, the responsible party is obligated to periodically update and reissue the SDS, to incorporate new information about the substance and its hazards, and to accommodate any changes in regulations.
Third Party MSDS Services
Some companies – particular larger companies with a large and changing inventory of SDS materials – maintain a staff of EHS specialists dedicated to creating, updating, and managing their own dynamic SDS library.  To author and update SDSs, these specialists must keep up with changing regulatory requirements of the various jurisdictions in which they do business, monitor and interpret new property and toxicology data, and suitably update and issues revised or new SDS documents.
At the other extreme, companies which store and resell a limited, static set of materials may get by with maintaining an electronic or paper library of SDS documents received from their suppliers.
Increasingly, companies are turning to 3rd party services to create, update, and manage their SDS documents.  This expertise is especially valuable for companies with a large, dynamic portfolio of products, and for companies which engage in significant import / export of materials, requiring SDS documents that comply with the content, format and language specifications of both the country of origin and the country where the material is use.
These 3rd party providers typically have proprietary expertise to translate physical property, toxicology and environmental data into hazard classifications, and to assemble the prescribed terminology into finished SDS documents.  They have the capabilities to create and manage SDS documents which conform in content, format and language to the requirements of each of the many countries important in global commerce.
Most of these 3rd parties have developed proprietary systems which automate SDS production, and most offer contract SDS authoring and management services.  Some representative 3rd party suppliers of SDS services in the USA include:
Chemical Safety Software – https://chemicalsafety.com/
Global Safety Management, Inc – https://www.gsmsds.com/
Intertek Group plc – http://www.intertek.com/
Lisam Systems – https://www.lisam.com/en-us/
MSDS Authoring Services, Inc – https://msdsauthoring.com//
MSDS Writers, LLC – https://www.msdswriter.com/
MSDS Source – https://www.msdssource.com/
NexReg – https://www.nexreg.com/about
Selerant – https://www.selerant.com/
SafeTec HSI – https://safetec.hsi.com/
VelocityEHS – https://www.msdsonline.com/
Verisk3E – https://www.verisk3e.com/
Many also have proprietary IT tools and expertise to interface this SDS information and other EHS data with the client company's own ERP system.
SDS and ERP Systems
Companies with a small and relatively unchanging menu of materials may often rely upon SDSs from their suppliers to meet their hazard communication and regulatory compliance obligations.   Many companies, however, face larger and more complex hurdles to satisfying the requirements of EHS, hazard communication, safe workplace, shipping and storage regulations,
Data about the physical properties, toxicity and environmental characteristics of a substance drive the selection of proper descriptive terms and phrases, and of the appropriate preventive and emergency response guidance which must be included in the SDS and other regulatory documents, operating procedures, training protocols.  This information – and the regulatory compliance and workplace health and safety practices it supports – pervades the documentation and practices of all companies engaged in manufacturing and product distribution.  For example:
SDS Safety Data Sheets
Packaging specifications and package label requirements
Bills of lading and other shipping documents
Mode specific packaging, labeling and placarding requirements
Manufacturing and formulation directions and precautions
Workflow design and production scheduling
Many of the largest multinational corporations manage this EHS information, and the creation and dissemination of the requisite documents, within their integrated ERP Enterprise Resource Planning systems.  Common large enterprise ERP systems, such as those from SAP and Oracle, have EHS environmental, health, and safety modules which maintain EHS data and documents, and integrate with all the points within the organization where they are vital.   These integrated systems streamline the processes for generating and disseminating key EHS documents, and they assure accuracy and consistency across the organization.  These systems are, however, generally quite expensive to implement and maintain.
Medium and small enterprises, lacking both the need and the resources for complex, fully integrated solutions, may choose simpler, less expensive ERP systems – SAP Business One, Macola 10, Oracle's NetSuite, for example.  The inherent EHS capabilities of these simpler ERP systems are often limited to little more than storing and distributing SDS and other documents imported from suppliers or third party providers.
Some of the suppliers of ERPs for small and medium enterprises – and many of the third party providers of SDS authoring, management and related services – offer services to develop and integrate customized regulatory compliance features into individual company's ERP system.
SDS Safety Data Sheet Conclusions
The SDS Safety Data Sheet and the information it contains are vital to meet the workplace safety and regulatory compliance obligations of the company, in the US and in the global marketplace.  Violation of these regulatory requirements may result in substantial fines or other legal sanctions and liabilities.
Most countries with a significant participation in global commerce maintain regulatory requirements for SDS, related documents, and workplace and shipping requirements.  While these are based loosely upon UN and other guidelines, requirements vary from country to country.
Some companies maintain their own staff and infrastructure to create and manage necessary SDS and other regulatory compliance and workplace safety information.  Others rely upon well established third party providers of such services.  Still others (especially large, multinational enterprises) integrated these capabilities into comprehensive (and expensive) ERP systems.