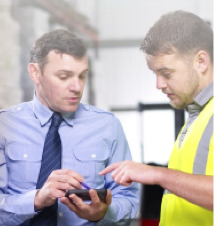 Electronic traceability is becoming an industry requirement in food manufacturing.
Whether you are a small food manufacturer with less than 200 employees taking inventory with a pencil and clipboard or a large food manufacturer with thousands of employees using the latest inventory tracking technology, all food manufacturers will be required to track and trace their products throughout the supply chain.
The Food Safety Modernization Act (FSMA) was signed into law in January 2011, and seeks to prevent contamination in the food supply chain. The law responds to the significant burden of foodborne illness in the United States each year, which the Centers for Disease Control and Prevention estimate at 48 million illnesses, 128,000 hospitalizations, and 3,000 deaths. The economic losses to industry, including farmers, are enormous, estimated at over $75 billion per year. FSMA reflects the need for a modern, global food safety system that prevents problems rather than primarily reacting to them after they have occurred.
It will not be possible to meet FSMA requirements using a paper-based inventory management system. Small food manufacturers will need to implement new systems to stay compliant and protect themselves and the food supply chain.
Inventory Management Solutions For Small Food Manufacturers
There are many Inventory Management solutions available that fit small food manufacturers budgets. Some to consider include:
Mobile Barcode Scanning
Small food manufacturers can use a mobile barcode scanner to track orders, inventory, location transfers and shipping information. The system can also be used to track raw materials to ensure the right ingredients are used. The technology is affordable and can help small food manufacturers increase production efficiency and minimize errors.
Bill of Material
A Bill of Material (BOM) is simply a list of raw materials or parts needed to make a product. An electronic BOM can give small food manufacturers greater control over costs of production. BOM's can also help in maintaining product consistency and quality.
Order Management
Getting orders recorded and shipped accurately, with the least amount of resources, is a key part of any manufacturer's success. A strong Order Management system allows manufacturers to obtain orders through many sources (online, file import, mobile, EDI) and efficiently manage them to meet commitments to customers and compliance requirements.
Warehouse Management Solutions for Macola and SAP Business One
Ready to get started with a Warehouse Management System? WiSys Agility solutions have been designed to achieve efficient Warehouse Management, Supply Chain Management and Business Intelligence. Contact us to learn more.
Sources:
http://www.fda.gov/Food/GuidanceRegulation/FSMA/ucm432576.htm
http://www.qualitydigest.com/inside/fda-compliance-news/small-food-manufacturers-face-quality-challenges-budget.html