Order Management
Receive, manage, and fill orders
Order Management with Automated EDI for Macola
A key part of a Supply Chain solution is the ability to obtain, manage and fulfill orders accurately in Macola. An order management system streamlines and automates order processing so that orders can be managed efficiently.
With an order management system, orders can be obtained through various sources, such as e-Commerce sites, file imports, mobile sales and EDI. Once orders are in the system, the order fulfillment process can be automated based on commitments to customers.
Integrated EDI
Our EDI integration allows Macola users to do business with big shippers by meeting compliance and Advanced Shipping Notice (ASN) requirements. This means more business opportunities for you. Our preferred EDI partner is Data Masons.

Customized Order Process
WiSys builds tools based on unique customer requirements for managing the creation of sales orders, filling backorders and scheduling replenishments of purchased or manufactured items. With WiSys Order Management, every component of the order fulfillment process can be customized using the Agility Adaptable Framework. Furthermore, WiSys provides all the components needed to automate these processes.
Pick Ticket Management
Pick Ticket management can be adapted to exactly how you wish to schedule picking and shipping as well as filling backorders. This flexibility allows Order Management to be integrated into current business processes.
Every company can have their unique processes for managing order priority for filling backorders. For example, you may determine that some customers are priority for complete order fulfillment based on any available stock and other customers are committed to a 10 day fulfillment of at least 80 percent of the order by sales total.
Order Import
Orders that need to be managed through website integration can be seamlessly interfaced to Macola using the Developer SDK. This type of integration does require custom development and WiSys has many customers who have created their own e-Commerce solution to meet their unique needs. Other orders may be sent to you from customers, or even online Marketplace stores such as Amazon. These orders usually come in the form of Excel or CSV files. Custom file imports can be created using the Agility Adaptable Framework.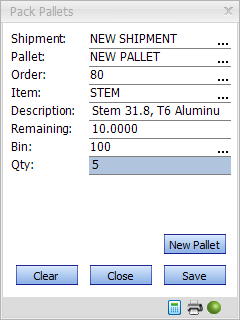 Mobile Order Entry for Macola
Mobile computing is growing as a new tool in managing orders. Custom order entry screens can now be deployed to tablets and connected directly to Macola. This allows orders to be entered as live quotes or orders directly in the system without latent requirements of data synchronization.
Other components that are part of this process are production and purchasing and production advice with the ability to execute on the recommendations. Quantities to purchase or produce can be changed and then Purchase Orders and POP Orders will automatically be generated. Document Management can also be integrated so that Orders Generated can automatically be printed.